---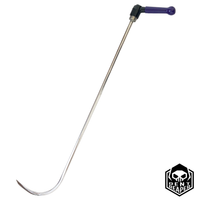 The Super Scythe is a new twist on the Original Dent Reaper.
It features the same great strength, geometry, and shave with one BIG Difference...
A HUGE 6" KICK
The Sharp Tip and Shave are very similar to the original Dent Reaper, but the Polished Stainless Steel and huge 6" kick are totally new!  This kick allows for amazing power and unbelievable access and reach.