---
News
Posted by Jon Videen on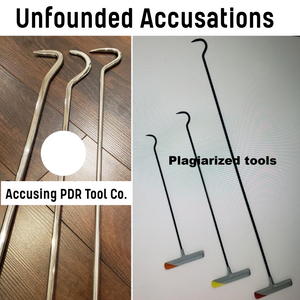 I am only pointing this out to show that these tool design concepts and techniques have been around for quite some time.  Our industry grows and evolves as do the vehicles we repair.  Small incremental changes and evolutions of these tools and techniques have gotten us to where we are now and will continue to help us grow and improve as an entire industry in the future.
---
Posted by Jon Videen on
I am so grateful for everyone in our industry that provides cutting edge PDR content.  Video is a great way to learn all sorts of things in paintless dent repair.  Knowledge is power and these great creators provide so much value to our industry!
---
Posted by Jon Videen on
I am so grateful to the PDR Tool Time Podcast and A-1 Tool for helping me through this incredible journey as well as all of the great members of the Paintless Dent Repair community. 
If you have any questions for me about the Dent Reaper, bringing your own tool to market, or dent repair in general, please feel free to contact me however you prefer.
All of my contact info is available on my website 
https://www.grayduckdentrepairofminnesota.com/ 
Thanks Again,
 Jon Videen